Friday, March 23rd, 2007
---
8:15 pm
Which name do you like best? Any you hate?
Wednesday, March 1st, 2006
---
3:35 pm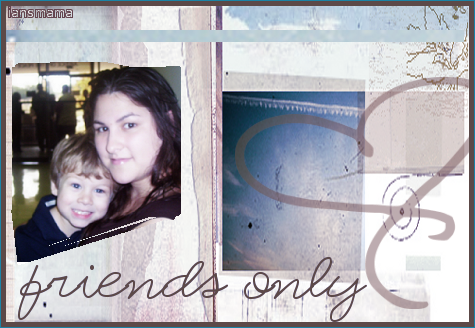 Before you add me, here's some basic things you should know about me.

- I'm a teen mother. I'm not a slut, I'm not irresponsible, and I'm not ashamed.

- I'm prochoice and firmly believe it is a woman's right to decide.

- I formula feed, spank my children, and use disposable diapers. Don't like it? Keep it to yourself.


- Before I had Ian, I was a completely different person. I don't regret anything that I did because it has led me to this point in my life.

- Last but not least, this is my journal. You may not agree with the things I do or the way I handle things, but these are my personal thoughts & I won't censor myself for anybody. You don't like it, don't add me.
Friday, February 17th, 2006
---
7:38 pm
Look what
ohcupcake made for me: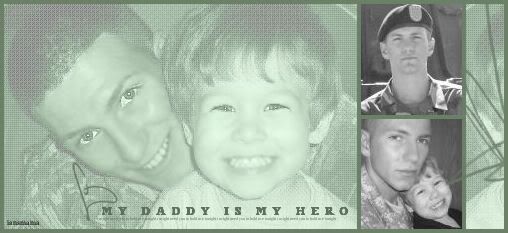 current mood:
giggly
Sunday, June 26th, 2005
---
6:14 pm
- Colorbars
3:45 pm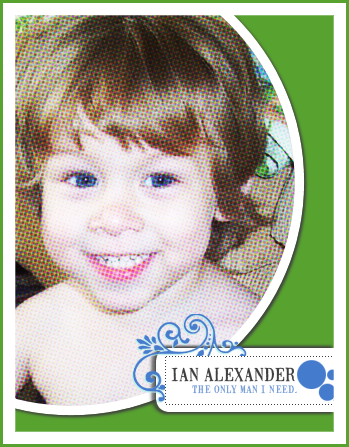 Made by the wonderful belladonna__

current mood:
loving
Tuesday, May 31st, 2005
---
9:16 pm
Sunday, April 24th, 2005
---
9:32 am


Can you believe it?!

current mood:
happy
Monday, April 11th, 2005
---
8:37 pm
FANTASIA BARRINO LYRICS

"Baby Mama"

[Chorus]
B-A-B-Y M-A-M-A
This goes out to all my baby mamas
This goes out to all my baby mamas
B-A-B-Y M-A-M-A
This goes out to all my baby mamas
I got love for all my baby mamas

It's about time we had our own song
Don't know what took so long
Cuz now-a-days it like a badge of honor
To be a baby mama
I see ya payin' ya bills
I see ya workin' ya job
I see ya goin' to school
And girl I know it's hard
And even though ya fed up
With makin' beds up
Girl, keep ya head up
All my

[Chorus]
B-A-B-Y M-A-M-A
This goes out to all my baby mamas
This goes out to all my baby mamas
B-A-B-Y M-A-M-A
This goes out to all my baby mamas
I got love for all my baby mamas

I see you get that support check in the mail
Ya open it and your like "What the Hell"
You say "This ain't even half of daycare"
Sayin to yourself "This shit ain't fair"
And all my girls who don't get no help
Who gotta do everything by yourself
Remember: What don't kill you can only make you stronger
My baby mama...

[Chorus]
B-A-B-Y M-A-M-A
This goes out to all my baby mamas
This goes out to all my baby mamas
B-A-B-Y M-A-M-A
This goes out to all my baby mamas
I got love for all my baby mamas

Cuz we the backbone (of the hood)
I always knew that (that we could)
We can go anywhere, we can do anything
I know we can make it if we dream
And I think it should be a holiday
For single mothers tryin' to make a way
But until then
Here is your song
Show love to my....

[Chorus]
B-A-B-Y M-A-M-A
This goes out to all my baby mamas
This goes out to all my baby mamas
B-A-B-Y M-A-M-A
This goes out to all my baby mamas
I got love for all my baby mamas
Sunday, March 20th, 2005
---
9:12 am
I swear, if I hear somebody say that The Texas Chainsaw Massacre actually happened, I'm going to scream. "It was based on a true story." NO. It was based on a man who did odd things. None of it really happened. Of course, you can't tell anyone that though.

http://www.snopes.com/movies/films/chainsaw.asp

current mood:
irritated
Tuesday, March 8th, 2005
---
9:27 pm
I love this song. It's "Keep your head up" by Tupac

And since we all came from a woman
Got our name from a woman and our game from a woman
I wonder why we take from our women
Why we rape our women, do we hate our women?
I think it's time to kill for our women
Time to heal our women, be real to our women
And if we don't then we'll have a race of babies
That hate the ladies that make the babies
And since a man can't make one
HE HAS NO RIGHT TO TELL A WOMEN WHEN AND WHERE TO CREATE ONE
So would the real men get up
I know your fed up ladies, but keep your head up
8:32 am
Monday, February 28th, 2005
---
7:58 pm
- Are you a child of the 90s?
Are you a child of the 90's? Bold the stuff you remember!

Fresh Prince of Bel-Air
Fraggle Rock
G.I. Joe
Are You Afraid of the Dark? oh man that show used to creep me out! :p
Secret World of Alex Mack
Nightmare Before Christmas
Welcome Freshman
Space Cases
Roundhouse
The Muppet Show
Muppet Babies
Eureka's Castle
Salute Your Shorts (possibly one of the best shoes EVER)
Hey Dude
Legends of the Hidden Temple
You Can't Do That On Television
G.U.T.S.
What Would You Do?
Double Dare
Rocko's Modern Life
All That
Ren and Stimpy
Clarissa Explains It All (she was such a nerd)
The Torklesons
Pete and Pete (i hated this show.)
Goodburger (welcome to goodburger, home of the goodburger, can i take your order?)
Angry Beavers
Sponge Bob (this wasnt early 90's damn it)
Hey Arnold!
AAH! Real Monsters
Loony Toons
Animaniacs
Pinky and the Brain
The Babysitter's Club (i have their movie. :p )
Underdog
Kablam!
Gullah Gullah Island (I still remember the song. Hey let's all come together, in the bright sunny weather.. let's all go to gullah gullah island... gullah gullah island..)
Richard Scarry
Dumbo's Circus
Ocean Girl
mystery Files of Shelby Woo
Snick Snacks
Dunkaroos
SNICK
Koala Yummies
Where In The World Is Carmen Sandiego?
Nick Magazine
The Goonies
Ernest Movies
Radio Flyer
Disney Watchers
Adentures in Wonderland
Homeward Bound
The Adventures of Yellow Dog
Milo and Otis
Neverending Story
Who Framed Roger Rabbit? ( i still have this movie. :p )
The Lion King
Labyrinth
101 Dalmations
The Secret Garden (i can't believe i used to watch this movie over and over)
Pete's Dragon
Hocus Pocus
Secret of Roan Inish
Land Before Time
Dinosaurs (isn't this the one with the baby that always hit the dad on the head with the frying pan? What was it he used to say?)
Fern Gully
Secret of NIMH
Gummi Bears
Care Bears
A Little Princess
Little Pony
Black Beauty
Rainbow Brite
Lady Lovely Locks
Candyland
Sorry!
Trouble
Don't Wake Daddy (i always wanted this game but my mama was too cheap to buy it.)
Mousetrap
Jenga
Don't Break the Ice
Hungry Hungry Hippos
Cooties
Tinker Toys
The castles that made tea sets
Sky Dancers ( i just recently saw a commercial for this.)
Polly Pocket (still have mine.. and not those big ass ones they have nowadays. I have the old school tiny ppl ones.)
Hypercolor T-Shirts
Lite Brite
Scrunchies
Side Ponytails
Stirrup Pants
Jellies
Saddle Shoes
Barbies (what the hell? Like this wasn't in any other decades?)
Beanie Babies
Tamagotchies (we used to have those in 5th grade and it was such an addiction. )
Yo-Yos
duncans
Choose Your Own Adventure (I still have like 15 of these books)
Pogs (ooh good lord. I used to have stacks of these things. and yet I could never figure out what they were for)
Goosebumps
Magic Attic Club
American Girl
Island of the Blue Dolphins
Saved by the Bell
Full House
Step By Step
TGIF on ABC
Sabrina, the Teenage Witch
Boy Meets World
Clueless
Mork and Mindy
Simpsons
Flipper
Eerie Indiana
Third Rock From The Sun
Tracey Ullman Show
Ghostwriter (this show was freaking awesome. i dont give a shit what nobody says)
Growing Pains
Titanic
Felix The Cat: The Movie
Jonathan Taylor Thomas (Jtt.. my walls were literally covered with him when I was 7. I was always buying Teen Beat.. lol)
Home Improvement
Tom and Huck
My Brother and Me
Kenan and Kel
Hanson
Inspector Gadget
Teenage Mutant Ninja Turtles
Power Rangers
Hot Wheels
Creepy Crawlers
Easy Bake Oven
Flower Making Kits
Weinerville
Wild and Crazy Kids
Playdough McDonald's Sets
Animorphs
Rainbow Fish (I love this book. I had the hardest time finding a copy for Ian)
If You Give A Mouse A Cookie
Bailey School Kids
Wayside School (do you remember this? These books were fucking crazy!)
Mrs. Piggle Wiggle
Boxcar Kids
Ramona Quimby
Amber Brown
Ronald Dahl
Allegra's Window

current mood:
happy
Saturday, December 4th, 2004
---
5:22 pm
Saturday, November 20th, 2004
---
10:41 pm
Thursday, November 11th, 2004
---
7:31 am

Threat rating: High. The Bush administration is
concerned that it may not get a second term.
Therefore, we are going to change the rules so
that each Democrat vote only counts as 0.2
votes because Democrat is a shorter word than
Republican


What threat to the Bush administration are you?
brought to you by Quizilla

current mood:
amused
Friday, October 29th, 2004
---
1:26 pm
Wednesday, October 20th, 2004
---
7:20 pm
- This song cracks me up.. it starts off all sweet..
Lords of Acid
Our Little Secret (1997)
You Belong To Me

You belong to me
Can't you see you're part of me
We are one
You are mine
Love until the end of time
Did you lie when you said
That you'll never look again
That our love will last forever
And forever ... forever

Every single part of you is mine
Belong to me
Every single move you make
Every single breath you take

Last night I went insane
When I heard you call her name
If you go away baby
I could never stand the pain
Every minute of the day
I wonder if you've gone astray
While we're meant to be together
Together ... together

Every single part of you is mine
Belong to me
Every single move you make
Every single breath you take

You'll bring me flowers
Thank you very much
But you've got something to hide
And I know it and you know it
I've been waiting for hours and hours
Where the fuck were you last night? huh?
Where the fuck were ya?
You can try to run away motherfucker
I'll find you
And if you ever cheat on me
If you ever cheat on me
I'll fucking kill you ass
I'll fucking kill ya!

You belong to me
Can't you see you're part of me
We are one
You are mine
Forever ... forever

Every single part of you is mine
Belong to me
Every single move you make
Every single breath you take
(x2)

current mood:
amused
Wednesday, August 11th, 2004
---
4:43 pm
4:36 pm
Thursday, July 29th, 2004
---
7:55 pm

FROZEN QUEEN/ KING
You dont want love to come through to you. You like
it the way you are. To be unreachable, no need
to show feelings. Hiding everything inside you.
You are already used to it. You say yourself
that you dont need anyone, that you stand on
your own two feet or that you dont have time
for these things. But in reality you are scared
to get hurt. You feel save where you are: by
yourself, nobody can hurt you there. You
invent your own relationship in your dreams.
You just need to know that you COULD get a
partner.
Thats it.
PLEASE VOTE, I want to know what you think about my
quiz, I worked hard on it.You can always
message me or tell me how I can improve that
quiz. Ill sure write back.


~THE big LOVE TEST!! What do you need? With PICS! For girls and boys!~
brought to you by Quizilla